"WE FINISH
WHAT THE FACTORY ONLY STARTED!"
TRUCKOUTFITTERS
1880 PAINTERS RUN RD
PITTSBURGH, PA 15241
UNDERCOVER HARD TONNEAU COVERS
When you need the protection of a bed cover with lockable security, then look no further. UnderCover tonneaus industry leading design, style and function sets them apart from the pack. Choose from their 1 piece Classic, SE, Elite or LUX solid covers or the folding Flex cover to best serve your needs. All of their covers offer great looks, sleek designs and weathertite secure protection for whatever cargo you haul.
TO ORDER NOW CALL:
1-412-221-3940
The Classic and SE models are both 1 piece solid covers that overlap the sides and tailgate locking and sealing up the bed. Both feature No-Drill mounting and fast, simple removal weighing less than 60lbs.
Both are pictured here in the standard black textured finish that requires very little maintenance to keep them looking and working like new for years to come!
If a painted to match cover is what you want, check out the LUX covers! Styling of the SE but smooth and factory painted to match your truck.

Still less than 60lbs, these covers offer all the same features as the SE black textured covers with a beautiful coat of paint! And because they are factory painted by UnderCover, these covers are available for Next-Day delivery and installation!
The hard folding Flex cover features a flush mounting style with the ability to fold the cover completely out of the way of anything you put in the bed of your truck.

No-Drill mounting, weathertite seals and sleek looks are what made this cover an industry leader! If "FLEX-ability" is what you are after, then this is the cover for you!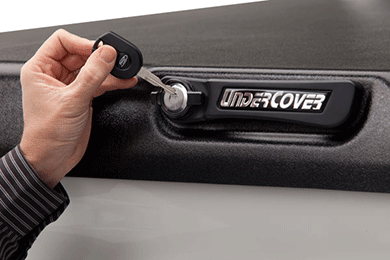 Elite is the latest cover from UnderCover. A solid 1 piece cover featuring all new styling, a large rear handle, codeable Bolt Lock, new LED light and a cargo pole to handle the out of reach items!
No more searching for keys, the lock on the Elite cover "learns" your truck key! This feature packed cover is available in their black textured style and soon to be released in a painted to match option as well!